Be Coach!
On September 22-23, the 2023-2024 series of the "Be Coach!" program begins, an integrative and experiential training that trains managers to effectively coordinate individuals and teams.
This program is delivered in Romanian.🇷🇴
See the brochure
See accreditation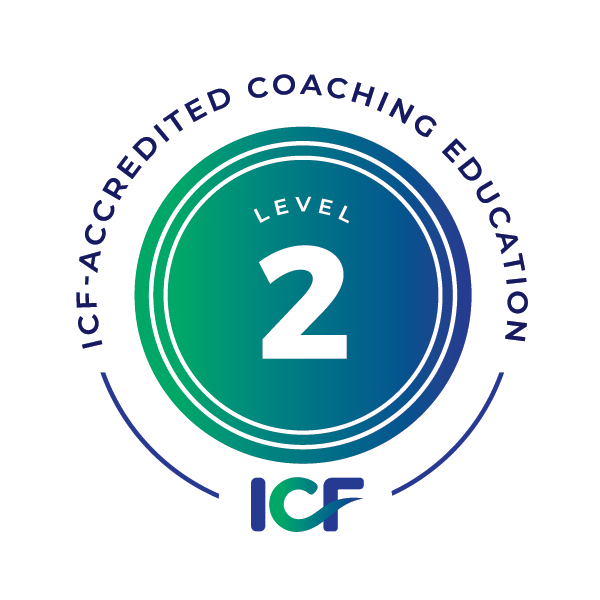 Our mission is to enable our clients to have a clear direction, focus and achieve quantifiable success as coaches, in all areas of their business. For them to own the coach role, prosper, learn and develop a successful career in coaching.
individual mentoring hours
During the program we will meet in 6 theoretical modules, 7 group mentoring meetings, 12 individual mentoring sessions and 8 supervised practice sessions.
Structure
OUR PROGRAM INCLUDES
Module 1: Fundamentals of Coaching. ICF Code of Ethics. Core competencies in coaching. Relational Resonance: THE ART OF LISTENING
The module focuses on exploring the standards of the coaching profession as set out by the ICF. The coaching journey begins with listening. Listening is both the mastery of the coach and the key to creating resonance in the coaching relationship. This key opens the coach to stable partnerships with his clients.
At the end of this module the participants:
Will understand the ethical coordinates of the coaching profession
Will explore the core competencies of the professional coach
Will discover their own positions of engaging attention in listening
Will learn to follow the customer's way of thinking and not (just) the content itself
Will learn to focus on who the customer is as a person and not what the customer says
Competences targeted:
Ethical Practice

Embodying a Coaching Mindset

Co-creating the relationship

Maintain Presence
Module 2: The art of dialogue
Sustaining a results-centered dialogue requires being present in the relationship and clarifying intent in listening.
At the end of this module the participants:
Will learn to observe the client's frame of reference;
Will know how to distinguish between what the client wishes and what the client wants;
Will know when to ask powerful questions that can change the customer's perspective;
Will be trained to observe the motivational aspects of the client's behavior and use them in coaching for the benefit of the client.
Competences targeted:
Ethical Practice

Maintaining Presence

Active Listening

Evoking Awareness
Module 3: Coaching - a paradigm shift process
A Coach supports clients to recognize and work with paradoxes, both in individual and team coaching. He knows that any individual in a group is simultaneously "responsible for" and "consequence of" the group's interaction.
At the end of this module, participants will:
Recognize the client's paradoxical thinking;
Support the client to use their paradoxical thinking to the advantage of their goal;
Acquire techniques for approaching the client from a systemic perspective;
Acquire team approach techniques for team coaching.
Competences targeted:
Cultivates Trust and Safety

Maintains Presence

Communicating Effectively

Cultivating Learning and Growth
Module 4: Creating awareness in the coaching relationship
As a form of client-centered dialogue, coaching appeals to the client's frame of reference, the client's attitudes and behaviors as perceived in the coaching relationship. Creating awareness is the coach's ability to integrate/evaluate multiple sources of information and make interpretations that help the client gain awareness of their situation. The way in which the coach accompanies the client in changing the perspective on the situation he is in must be agreed with the client.
At the end of this module, participants will:
Know how to use coaching models, in accordance with ICF competencies;
Learn to create the right framework to facilitate trust in the coaching relationship;
Know how to self-evaluate in the coaching process and adapt to the client's needs.
Competences targeted:
Co-Creating the Relationship

Communicating Effectively

Cultivating Learning and Growth

Embodying a Coaching Mindset
Module 5: Team coaching
Team coaching aims to apply coaching principles in the relationship with a team, this being approached in a systemic way. Under the coach's watchful eye, team members learn to have an open dialogue and collaborate in a manner based on mutual support and empathy. The coach uses action methods. With a good warm-up, the coach guides the group to tell their story, understand it better and facilitate its change.
At the end of this module, participants will:
Learn and understand the elements of team coaching;
Test tools and steps of the action methods
Be able to define team roles from a systemic perspective;
Be able to accompany a team to achieve specific results within a defined time horizon.
Competences targeted:
Co-Creating the Relationship

Communicating Effectively

Cultivating Learning and Growth
Module 6: Standards of the Coaching profession
Professional ethics in the coaching relationship differentiate coaching from similar professions. The skills of contracting a coaching process and establishing the coaching relationship are the foundations of the profession. Furthermore, the personal positioning of the coach in a dynamic market requires a special approach as the coaching relationship is not just a support service. Coaching is a profession that has specific peculiarities, in a constantly growing professional community.
At the end of this module, participants will:
Understand and apply the ethical standards of the coaching relationship in individual and team coaching;
Understand the entrepreneurial dimension of the coaching profession;
Know how to manage a complex contractual coaching relationship;
Know how to promote themselves in a professional way, in a competitive market.
Competences targeted:
Coaching Foundation

Co-Creating the Relationship
Group mentoring
"Concept without intuition is empty, intuition without concept is blind." (Immanuel Kant)
Group mentoring is dedicated to coaching each of the 8 ICF competencies as described at www.coachingfederation.org/core-competencies.
The program includes 7 days of 7 hours of group mentoring interspersed between modules.
A coach needs practice to form his own style. The mentoring group is a "workout room" of innate coaching skills, (re)discovered within the course and practiced in real time.
It is the space where participants live what they learn and learn from what they live.
Individual mentoring
Each participant in the program will benefit from 12 individual mentoring sessions, lasting 60 minutes, aimed at refining the personal coaching style.
The 12 individual mentoring sessions will be established by mutual agreement with the mentor.
Working sessions
They are intended exclusively for practice. The meetings are attended by supervisors. The program includes 8 meetings of 3 hours each.
Coachingdipity's Philosophy
revolves around multiple facets as mentioned below:
We create a student centered learning environment in which students are both the drivers of their own study as well as creating the use cases for study. They can go at their own pace while benefiting from the strength of the study group with practical real life scenarios.
We set high expectations for the study of coaching by promoting the growth mindset and learning from every event happening in the group.
We are community engaged. The Coachingdipity community numbers 25+ certified coaches and 50 more in process of certifications. We run regular events to facilitate peer coaching and practice.
We have a holistic approach. Looking at how a person assimilates and applies coaching techniques rather than simply looking at techniques. Our focus has been and will always be the student coach rather than the student learning coaching techniques. We will go above and beyond for our students to become their envisioned perfect version of coaches.
We aim to create ICF accredited coaches by offering the required learning and experience by finishing the class.
| | | | |
| --- | --- | --- | --- |
| Month | Module | Group Mentoring | Working Session |
| September 2023 | 22, 23 | | 25 |
| October 2023 | 13, 14 | 7 | 16 |
| November 2023 | 10, 11 | 4 | 13 |
| December 2023 | 8, 9 | 16 | 11 |
| January 2024 | 19, 20 | 27 | 22 |
| February 2024 | 23, 24 | 10 | 26 |
| March 2024 | | 16 | 11 |
| April 2024 |   | 6 |  1 |
Investment
Program cost: €3,500
Cost includes: tuition fee, course materials, lunch for modules and group mentoring sessions (19 days), snacks on all working days, venue costs.
Vocational training activity is exempt from VAT.
The amount can be paid in full or in a maximum of 6 installments.
Enrollment conditions
Enrollment in the program is based on an interview with the course facilitators. A copy after the bachelor's degree is required for the ANC examination.
Participants are encouraged to approach enrollment in the program as a comprehensive coaching training experience. The outcome of this experience is influenced by participation in all activities in the established order.
Payment Policy
Coachingdipity requires timely payment for all charges owed to Coachingdipity, including but not necessarily limited to tuition and fees. Failure to make payments on time may subject you to additional charges. Any payment due that is not received by the due date is subject to a late payment fee. Timely payment of your account with approved financial aid, personal check (unless restricted), credit card or cash will ensure that you avoid the late fee assessment and keep your account in good standing.
Billing statements will be generated and emailed to customers one month before each learning module starts
Payment will be due to Coachingdipity by no later than the first day of each learning module. If an invoice falls due during a weekend or holiday, the payment transaction is executed on the following business day.
Unpaid balances after the due date will be considered delinquent with a 0,1% late fee monthly.
Service to a delinquent account will be suspended on the 60th day from the billing date unless paid in full. Billing will continue.
Delinquent accounts will be terminated for non-payment on 90th day from the billing date unless paid in full. Billing will discontinue.
In some cases, under certain circumstances, Coachingdipity will work with customers on special arrangements for paying past due balances and bringing their accounts up to date. The Payment Arrangement must be agreed prior to suspension being processed. Once service is suspended, the customer must pay the full past due balance.
The Payment Arrangement extension cannot go beyond the date of the next billing cycle due date.
The Payment Arrangement payment amount being extended must be a minimum of the past due amount (current balance excluded).
Customers may use Payment Arrangement no more than once (1) per year.
It is our policy that all current term charges must be paid in full before a completion diploma is awarded.
Grievance policy
Policy brief & purpose
Our grievance procedure policy explains how employees can voice their complaints in a constructive way. Supervisors should know everything that annoys employees or hinders their work, so they can resolve it as quickly as possible. Employees should be able to follow a fair grievance procedure to be heard and avoid conflicts.
The company encourages employees to communicate their grievances. That way we can foster a supportive and pleasant workplace for everyone.
Scope
This policy refers to everyone in the company regardless of position or status.
Policy elements
Grievance definition
We define grievance as any complaint, problem or concern of an employee regarding their workplace, job or coworker relationships.
Employees can file grievances for any of the following reasons:
Workplace harassment
Health and safety
Supervisor behavior
Adverse changes in employment conditions
This list in not exhaustive. However, employees should try to resolve less important issues informally before they resort to a formal grievance.
Employees who file grievances can:
Reach out to their direct supervisor
File a grievance form explaining the situation in detail
Refuse to attend formal meetings on their own
Appeal on any formal decision
Employees who face allegation have the right to:
Receive a copy of the allegations against them
Respond to the allegations
Appeal on any formal decision
The company is obliged to:
Have a formal grievance procedure in place
Communicate the procedure
Investigate all grievances promptly
Treat all employees who file grievances equally
Preserve confidentiality at any stage of the process
Resolve all grievances when possible
Respect its no-retaliation policy when employees file grievances with the company or external agencies
Procedures
Employees are encouraged to talk to each other to resolve their problems. When this isn't possible, employees should know how to file a grievance:
Communicate informally with their direct supervisor. The supervisor will try to resolve the problem. When employees want to complain about their supervisor, they should first try to discuss the matter and resolve it between them. In that case, they're advised to request an informal meeting. Supervisors should try to resolve any grievance as quickly as possible. When they're unable to do so, they should refer to their leader and cooperate with all other procedures.
If the grievance relates to a supervisor behavior that can bring disciplinary action (e.g. sexual harassment or violence), employees should refer directly to the next level supervisor.
Accommodate the procedure outlined below
The HR department (or any appropriate person in the absence of an HR department) should follow the procedure below:
Ask employee to fill out a grievance form
Talk with the employee to ensure the matter is understood completely
Provide the employee who faces allegations with a copy of the grievance
Organize mediation procedures (e.g. arranging a formal meeting)
Investigate the matter or ask the help of an investigator when needed
Keep employees informed throughout the process
Communicate the formal decision to all employees involved
Take actions to ensure the formal decision is adhered to
Deal with appeals by gathering more information and investigating further
Keep accurate records
This procedure may vary according to the nature of a grievance. For example, if an employee is found guilty of racial discrimination, the company will begin disciplinary procedures.
Diversity and Inclusion Policy
Coachingdipity's Diversity, Equity and Inclusion (DEI) Philosophy Statement
Coachingdipity recognizes that the disability rights movement is inseparable from the human rights movements for racial, economic, and gender equity. We recognize that people with disabilities must be at the forefront of any successful fight for justice. Our work is rooted in the firm belief that all people deserve respect, dignity, and self-determination.
Coachingdipity understands that all types of oppression are interlocking and that prejudices which harm people with disabilities are compounded based on race, ethnicity, immigration status, gender, sexual orientation, and socio-economic status. We value collaboration across movements as key to dismantling ableism, racism, sexism, xenophobia, homophobia, and transphobia within our organization, the disability rights movement, and the broader society.
Commitment to Diversity, Equity, & Inclusion
We commit to centering the priorities of people with disabilities with diverse backgrounds and identities and acknowledge multiply-marginalized groups have historically been under-represented in the disability rights movement.
Coachingdipity's work will be informed by the following principles:
People with disabilities, including from low income backgrounds, diverse racial and ethnic backgrounds, immigration status, LGBTQ, who are currently or were formerly incarcerated, and all other marginalized backgrounds must be able to participate and lead a diverse disability rights movement.
People with disabilities have a right to pursue their dreams without the limits of others' low expectations.
People with disabilities have the right to make decisions about their bodies and lives, including family planning.
People with disabilities have the right to fully access and participate in public life.
People with disabilities deserve to create, be represented in, and access all forms of media, regardless of communication needs or technology requirements.
People with disabilities have a right to fair and equal opportunities to advance economically.
People with disabilities must have access to culturally relevant and trauma-informed services.
People with disabilities have the right to personal safety, freedom from abuse, and effective response to crisis.
These guiding principles are not and may never be exhaustive. We choose to openly engage in an ongoing process of active learning and growth.
Partial Completion Policy
Coachingdipity stands for excellence and will help you reach your goals throughout the program. Extra mentoring, coaching, contact hours are our tools to help you get ready for your certification. Although we are flexible and will look at individual contexts and needs, we do understand that an official statement is needed to frame the expectations for our attendees.
It is our official policy to allow you to finish your certification work and submit your deliverables for certification when you are ready within 2 years from the start date of your program.
If a coach training student completes part of a program, they will have up to 3 years to complete assignments for completion or transfer to a different class and finish the program.
If a coach training student withdraws from a program and requests a certificate for the hours completed, they will be provided with a certificate that includes the accredited CEUs and ICF CCEs appropriate to the hours completed
Transfer of credit Policy
Coachingdipity aims for a holistic development of its students towards the profession of fully certified coaches. If a student has completed ICF-accredited training from a different program, Coachingdipity will accept those training hours when they provide proof of their completion, and it is verified.
Coachingdipity reserves the right to perform a full assessment of the candidate's learning and recommends appropriate further learning to hone the candidate's coaching skillset, in accordance with the candidate's objectives.
Refund Policy
The below cancellation and refund policies will apply to "Be Coach!" program:
Students may cancel their program attendance with 15 business days or more prior to the starting date of the program and by doing so, the program fee is fully refundable. If the cancellation is done between 6 and 14 business days prior, 50% of the program fee will be refunded. No refunds are possible after 5 business days prior to the starting date.
Cancellation notifications shall be sent via email to: office@coachingdipity.ro
Coachingdipity reserves the right to reschedule, to cancel any scheduled training or to replace personnel due circumstances beyond our control. If a training session (module) is rescheduled or cancelled, participants will be given notice by Coachingdipity at least 5 business days before the start of the class. Should the cancellation happen, the fee asso- ciated to the respective training session (module) will be refunded.
Class Absence Due to Illness or Extenuating Circumstances
Class Absence Due to Illness or Extenuating Circumstances
Coachingdipity Students are responsible for knowing the following:
Students are responsible for notifying their instructors of their absence due to an extenuating circumstance or illness prior to the missed class.
Missed Classes and Assignments
Instructors will address class absences on a case-by-case basis. They have final approval on excusing an absence or allowing students to make up missed work within a given time frame. Students who miss class for any reason will be responsible for contacting the instructor and confirming arrangements to make up missed assignments and classes.
Extended Absences
Students who miss a substantial number of class meetings may wish to consider withdrawing from the course. They should discuss their options with their instructor, including participating/continuing learning in another class.
Extenuating Circumstances
In the case of a personal emergency or extenuating circumstance that might interfere with a student's ability to attend or perform in class(es), students are highly encouraged to contact their instructors.
Students Who are Pregnant or Who are Parents
Students who are pregnant and need to miss class due to medical appointments or related conditions are encouraged to disclose this information to their instructors. Instructors will work to support these students so that they may complete their class requirements.
coaching program details
Program brochure
24th Gen. Eremia Grigorescu Street,
Bucharest, 010476, Romania
office@coachingdipity.ro
Coachingdipity S.R.L.
Registry No. J23/369/2016
Fiscal Code: RO35553623
Social Capital: 200 lei
Address: Corbeanca, 9th Cantonului street, Ilfov County
© 2016 - 2023 Coachingdipity SRL